One of the very first pies I learned to make was simple custard pie.  The recipe was from  The Fannie Farmer Cookbook  by Marion Cunningham.  From my young perch, I viewed Marion as the Ina of the 1970's.
http://en.wikipedia.org/wiki/Fannie_Farmer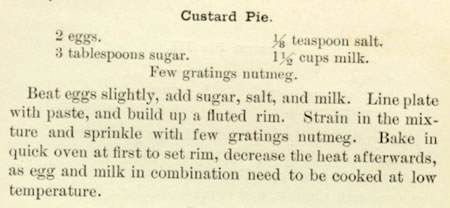 This was the original recipe from Fannie.
Custard Pie, Chess Pie, Shoo-fly Pie, Buttermilk Pie.
Vintage, celestial, familiar, and soothing...
Buttermilk, eggs, melted butter, sugar, flour and a first class splash of vanilla are all it takes to make this tasty Southern celebration.
Usually everything needed is within reach.
I use a food processor to prepare the single crust.
Flour, salt, a little sugar, and
cold butter.
Pulsed together for 15-20 seconds until it looks like this!
With the machine running add ice water and stop when the dough pulls together.
Shape the dough into a disc and chill it for about 30 minutes.
I roll the dough out between two pieces of plastic wrap or cling film if you are British.
Move the pasty to a 9-10-inch pie pan.
Flute and chill while preparing the filling.
Lots of sugar, a pinch of salt and a little touch of flour.
Buttermilk, pure vanilla, eggs
and melted butter.
Whisk the eggs into the sugar
one at a time.
Two
Three
Add in the melted butter
and vanilla buttermilk.
Pour custard mixture into prepared pastry and gently move to the preheated oven to bake.
The pie should be firm; the top bravely golden with a space-like swirl, the thick crust a modest brown.
As it bakes, a warm, slightly seared sugar and buttery aroma floats from the oven.
Simple and silky with light layers of sweet surprises.
I am transported to 1975 when Ty was three years old.
Ingredients
2 cups all purpose flour
1/2 cup ice water
1 teaspoon fine salt
1 Tablespoon sugar
8 ounces cold butter, cut into ½-inch cubes
Instructions
In a food processor, pulse butter into flour, salt and sugar with the steel blade, about 15 seconds or until mixture looks like small crumbs. Add water through the feed tube and run until dough comes together, adding more water one tablespoon at a time if necessary. Form dough into a disc; Chill.
Remove dough from fridge and roll out to fit one 9-10-inch pie pan.
http://cococooks.net/buttermilk-pie/
Ingredients
1 1/2 cups sugar
1 Tablespoon flour
1/4 teaspoon Kosher salt
3 large eggs
1/3 cup melted butter
1 cup buttermilk
1 teaspoon vanilla extract
1 9-10-inch pie crust (unbaked)
Instructions
Prepare pastry for pie. Preheat oven to 375 degrees F.
In a large bowl combine sugar, salt and flour. Whisk in eggs one at a time. Add butter, then buttermilk with vanilla.
Pour mixture into the pie shell. Bake 15 minutes, then reduce oven temperature to 350 and continue baking for an additional 30 minutes or until the center tests done.
Cool and serve.
http://cococooks.net/buttermilk-pie/