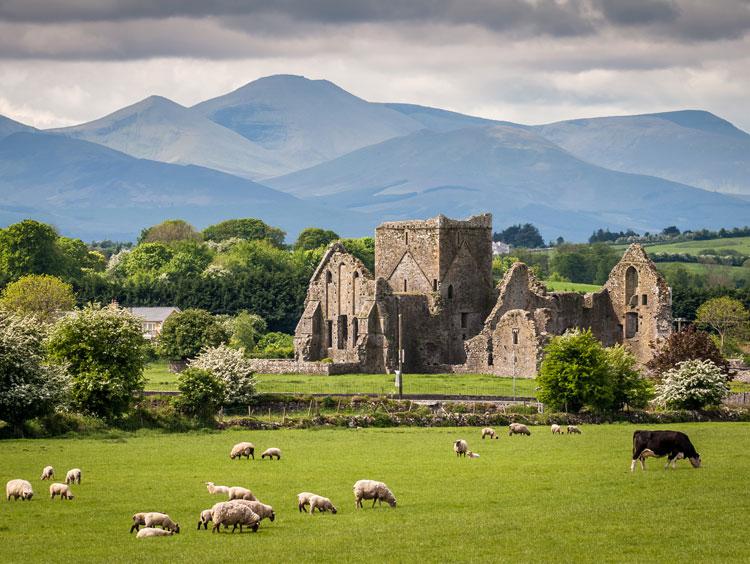 Photo Source: www go-today.com
Wide is the door of the little cottage.
My mom always made a big pot of Corned Beef and Cabbage on St. Patrick's Day; and so it has for me the last 45 years.  The aroma of long-simmering salty, briny pickled brisket evokes all kinds of food memories, including March 17, 1972 when I was a pregnant shade of green.
As it is said, we all become Irish for a day, celebrating at parades with bearded trickster leprechauns, shamrocks, and hopefully; a bubbling pot of the Irish-American dish.
My recipe evolved from potatoes and carrots to the addition of rutabagas and turnips which I adore, especially when the baby varieties spring up at the market.  Since the meat shrinks significantly, consider cooking two pieces and load up on the vegetables.  Leftover bits and pieces reign superior on their own.
Simply place the meat and pickling spice packet
 (I use extra spices),
peppercorns, and bay leaves in a large Dutch oven with celery stalks and a peeled onion studded with whole cloves; cover with water and bring to a boil.  Reduce to a simmer and cook the meat 50 minutes per pound.
The meat should be fork tender but not falling apart.  Remove the celery and toss.  You may discard the onion too, but we like it.
During the last 20-30 minutes, layer the potatoes into the pot; then the remaining veggies cut into uniform pieces.
These turnips were such dolls; I left them whole with their cropped green hats.
Add cabbage wedges when the vegetables are nearly done, and cook covered another 5 minutes or just until the leaves are wilted.  Remove the meat and slice across the grain.
Load a heated platter with sliced meat and piles of grouped vegetables.  Dress them all up with chopped fresh parsley and a few ladles of aromatic broth.  Serve with English-style mustard and good sweet butter.  I go BIG, and stir a heaping spoonful of extra-hot creamed horseradish sauce (to taste) into newly whipped (unsweetened of course) heavy cream seasoned with freshly ground pepper as a foil for the corned beef.
Irish Soda bread or cornbread with honey?;
Creamed Corn Cornbread, please!
Corned Beef and Cabbage with Root Vegetables
Ingredients
6-7 pounds corned beef
1 onion stuck with 8-10 cloves
3 bay leaves
4-5 celery ribs with leaves
2 teaspoons peppercorns
1-2 Tablespoons pickling spices
1 ½ pounds carrots, peeled
1 ½ pounds small white rose potatoes, peeled
1 ½ pounds rutabagas, peeled and quartered
2 bunches baby turnips
2 large cabbages, wedged
Chopped parsley
Instructions
Place corned beef, onion, bay leaves, celery ribs, peppercorns, and pickling spices in a large stockpot. Cover with water and bring to a boil. Reduce heat and simmer 50 minutes per pound, about 3-4 hours or until meat is tender but not falling apart. Add carrots, potatoes, rutabagas, and turnips. Cook vegetables 20-30 minutes more. Add wedged cabbage and cook 5-7 minutes more. Arrange vegetables on a platter with sliced corned beef. Garnish with chopped parsley. Serve with English style mustard and creamed horseradish sauce.
Serves 8-10
© Copyright 2015 Peggy Barrett Lunde
All Rights Reserved
http://cococooks.net/
http://cococooks.net/corned-beef-and-cabbage-with-root-vegetables/